New Legislation Could Give Tax Benefits to US Airlines for Using Sustainable Aviation Fuel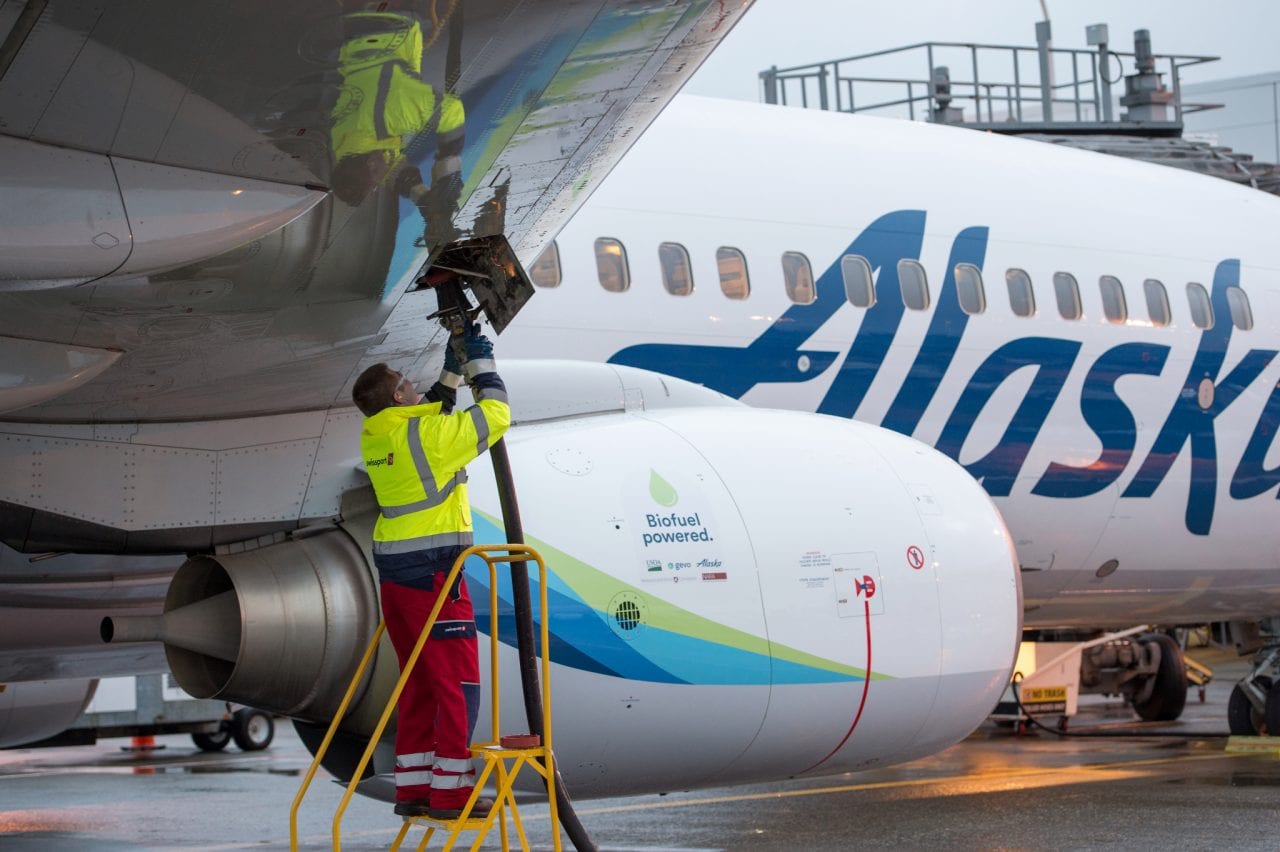 Lawmakers introduced new legislation Thursday that would establish a blender's tax credit for using sustainable aviation fuels (SAF) that reduce greenhouse gas emissions by at least 50 percent.
The Sustainable Skies Act was introduced by representatives Bradley Schneider (D-IL), Dan Kildee (D-MI), and Julia Brownley (D-CA) and would establish a $1.50 per gallon tax credit for SAF that reduces emissions by 50 percent. If the reduction is over 50 percent, $0.01 is added for every percentage point maxing out at $2.
"Airlines have made sustainability commitments to reduce the carbon emissions, and the SAF industry has demonstrated its preparing to meet that demand," Schneider said during a press call announcing the legislation. "But there is a clear need for federal investment to help SAF producers scale up and ensure aviation can meet their goals. This tax legislation represents a well-calibrated well-timed effort to kickstart SAF's long-term viability. Our legislation enjoys the support of the aviation industry, the environmental community, fuel producers, and organized labor. The Sustainable Skies Act represents a pragmatic focused approach to reducing aviation's carbon emissions."
The legislation qualifies SAF as a liquid fuel that consists of synthesized hydrocarbons and meets the requirements of ASTM International Standards. It also specifies that to qualify for the tax credit SAF cannot be derived from palm fatty acid distillates, which have been shown to be harmful to the environment. These fuels must be produced in sustainable pathways and follow the guidelines instituted by the International Civil Aviation Organization (ICAO).
Nathaniel Keohane, Environmental Defense Fund's senior vice president for climate, expressed support of these safeguards during the call.
"We're also excited about the broader environmental safeguards," Keohane said. "The bill includes rigorous sustainability criteria and relies on traceability information requirements that the US government helps to put in place in the UN body, ICAO…or requirements that will be equivalent to that sort of stringency and the integrity of those requirements to ensure that only the highest integrity fuels get the tax credit. That will ensure for example that biofuels from the deforested lands don't qualify this. That is a really critical aspect."
Keohane also stressed the importance of this legislation following the COVID-19 pandemic which has put a strain on airlines.
"As economies reopen as demand for flights and all that they bring and the airlines come back, it's really important that we take this moment to be forward-thinking put climate change at the center of the airlines' recovery," Keohane said. "The Sustainable Skies Act not only supports sustainable aviation fuels, but it does so in a way that creates the right incentives. It's performance-based. It's designed to exclude…some of the most problematic pathways in the past, palm oil, soy, rapeseed, and so on. It's designed to that the incentive grows with the carbon benefit. The bigger the climate benefit, the bigger is the tax credit, and I think that's a critical design feature."
Airlines are already showing strong support for the legislation. A letter of support signed by over 60 organizations including American Airlines, Boeing, Delta, FedEx Express, JetBlue Airways, Southwest, and United, expressed support for passing and enacting the legislation.
United Airlines CEO Scott Kirby participated in the call announcing the legislation and stressed the importance of industry working with climate organizations.
"One of the important things today is, I hope, the start of a new trend where you see industry, represented by me, arm and arm with the Environmental Defense Fund…that is about finding genuine solutions instead of fighting each other," Kirby said. "There are some industries, like aviation, that are going to be hard to decarbonize."
Kirby said United is taking multiple initiatives to decarbonize its operations, however, he argued that SAF would be extremely important because of its ability to fuel large aircraft.
"We're doing a lot at United for electric aircraft and hydrogen-fueled aircraft, but the truth is they don't have the energy density to fly bigger planes long distances," Kirby said. "So how do we decarbonize an industry that needs jet fuel and sustainable aviation fuel is by far the number one alternative for us to do that."
Brownley, who sits on the select committee on the climate crisis and the aviation subcommittee on the transportation and infrastructure committee, echoed the importance of SAF in decarbonization efforts
"SAF can both reduce emissions by up to 80 percent over traditional fuels and be dropped into the fuel tanks of existing aircraft," Brownley said. "It can provide an immediate climate impact to our existing aviation system. All that's missing is crucial government support to help grow the burgeoning SAF industry at the pace needed to meet our climate goals."
Kildee said the Sustainable Skies Act takes climate change seriously because it targets that accounts for almost 3 percent of global greenhouse gas emissions.
"We know climate change is real. It's a present danger to our country and we've got to do all we can do to address it," Kildee said. "That's why I'm proud to support the Sustainable Skies Act. It takes the threat of climate change seriously by addressing one of the largest greenhouse gas emitters, and that's jet fuel. Commercial aviation accounts for roughly 3 percent of global greenhouse gas emissions. Nearly all of which comes from the combustion of jet fuel. The Sustainable Skies Act would incentivize companies to use sustainable aviation fuels, SAF. Low carbon synthetic jet fuel is made with safe and sustainable materials, which create lower greenhouse gas emissions and that's the goal."
The post New Legislation Could Give Tax Benefits to US Airlines for Using Sustainable Aviation Fuel appeared first on Aviation Today.
Check FastApn access for commercial satcoms at Fastapn

Flytlink – Avionics, Satcom's and IFE Consultants